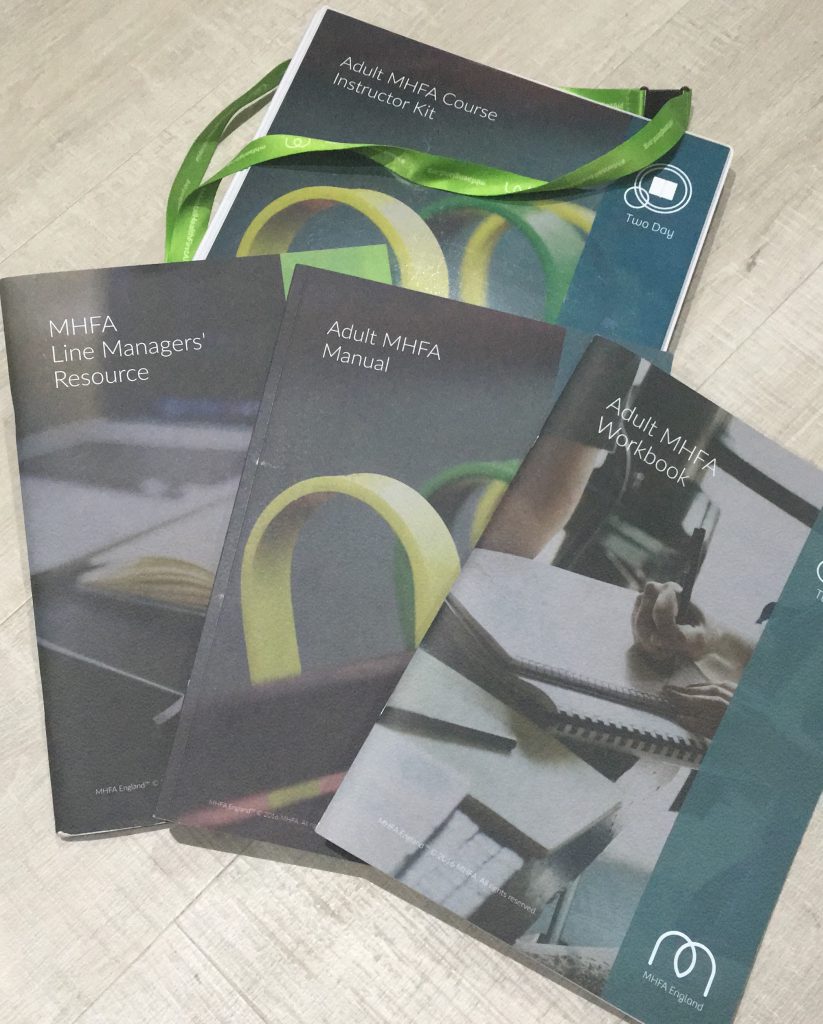 Mental Health First Aid Training
Mental Health First Aid (MHFA) England Adult Online Training delivered by POINT3.
Mental Health First Aider Training Course

Our next available training takes place across 4 live, virtual classroom based sessions on 18, 19, 25 + 26 October 2022 (all live, virtual sessions 09.15 – 12.00hrs). In between these sessions participants will take part in 4 self-learnings sessions of approx. c.3-6 hours total time.

To find out more and to register click here or email us here.
We are trained to deliver MHFA England First Aid training to individuals / businesses wishing to gain a qualification in mental health first aid.

MHFA is accredited by the Royal Society for Public Health and is the only provider of licensed Mental Health First Aid instructor training in England.
The course qualifies attending individuals as a certified Mental Health First Aider.
We can cater for mixed groups made up of individuals from multiple businesses OR host training for up to 16 people from your business as one group.
Course Overview
We are now delighted to be offering the adult training online. This two day equivalent course – delivered part through self-learning and part through live, virtual classroom sessions – qualifies your employees as Mental Health First Aiders, giving them:
An in-depth understanding of mental health and the factors that can affect wellbeing.
Practical skills to spot the triggers and signs of a range of mental health issues.
Confidence to step in, reassure and support a person in distress using the Mental Health First Aid action plan.
Enhanced interpersonal skills such as non-judgemental listening.
Knowledge to help someone recover their health by guiding them to further support – whether through self-help resources, internal support such as EAP, or external sources such as their GP.
An understanding of how to keep themselves safe while performing their duties.
Format
The online course is split across 8 sessions:

Four x self-learning sessions (approx. c.3-6 hours total time)
Four x live, virtual classroom sessions (10 hours total time)

Live sessions are typically run across four separate 2.5 hour sessions, split over two weeks (e.g. 2pm – 4.30pm on Monday and Tuesday of week 1 and 2pm – 4.30pm on Monday and Tuesday of week 2)*.
Ahead of each live session, there is 1 – 2 hours of self-learning to complete.
Learning takes place through a mix of self-learning, presentations, group discussions and workshop activities.
NB: We limit numbers to 16 people per course so that the instructors can keep people safe and supported while they learn.
Takeaways
Everyone who completes the course gets:
A certificate of attendance to say they are a Mental Health First Aider.
A manual to refer to whenever they need it.
A quick reference card for the Mental Health First Aid action plan.
A workbook including a helpful toolkit to support their own mental health.
A copy of the Line Managers' Resource, an invaluable source of advice on how to support an employee experiencing mental ill health.
Classroom testimonials:

I can't thank Nicky and Imogen enough. They are an absolute asset to the MHFA network and so passionate about what they do. I would recommend them in a heartbeat!

I found this course to be inspirational and confidence boosting, giving me essential skills for life in my professional and personal worlds. The course tackled big issues with a perfect balance of seriousness and importance quite rightly needed, but never seemed overwhelming to take on as first aiders, due to the expert tutoring of Nicky and Imogen – who complimented each other brilliantly guiding us through the course content.

Nicky and Imogen are both fabulous instructors… compassionate, knowledgeable but they also bring humour and make the training as enjoyable as can be. Thank you!

Thank you so much, I thoroughly enjoyed the course. It was informative, fun, challenging and interactive. Both Nicky and Imogen were great instructors and helpful, understanding and so supportive. From someone who had little to no knowledge or experience in mental health and mental health first aid, I certainly feel like I now have the confidence and tools to 'ALGEE' with both colleagues and friends. Thank you!

This course has given me an essential insight into Mental Health, and the variety of conditions. I now have the confidence to support and give guidance to colleagues who may be suffering from mental health conditions.

Wonderful delivery and a great experience with excellent support offered going forward which I found very reassuring.
Further Information
For further information, prices and to book your training please contact a member of the POINT3 team.

Mental Health Awareness Training
As an extension of our offering, we have created a half day (4 hours) Mental Health Awareness training module aimed specifically for those within the workplace.

This training is ideal for any person in the workplace wishing to gain a greater knowledge, understanding and awareness of mental health. It is especially recommended for business leaders, people managers and/or those who come into frequent contact with other team members.
Check out our dedicated page about Mental Health Awareness Training for more information.