Themed around Anxiety
As part of our Mental Health First Aid training value-add and safe-guarding, we host free quarterly meet-ups for all those that go through our training. Nicky Morgan hosted our most recent gathering on Thursday, 4th May, welcoming 13 of our community along.
We know that taking on the role of an MHFAider can feel like a big responsibility – on top of the usual workload pressures and life demands. These free-to-join MHFA Meet-ups are here to provide those that train with us an opportunity to regroup in a safe and supportive environment to discuss their role as MHFAider alongside relevant topics.
In line with May's Mental Health Awareness Week, we themed the session around "Anxiety" giving our MHFAiders the opportunity to cross-share their current MHFA experiences, ask questions and share challenges. We then refreshed their knowledge of anxiety as both an emotion and a disorder, inviting our community to help educate others on the distinction.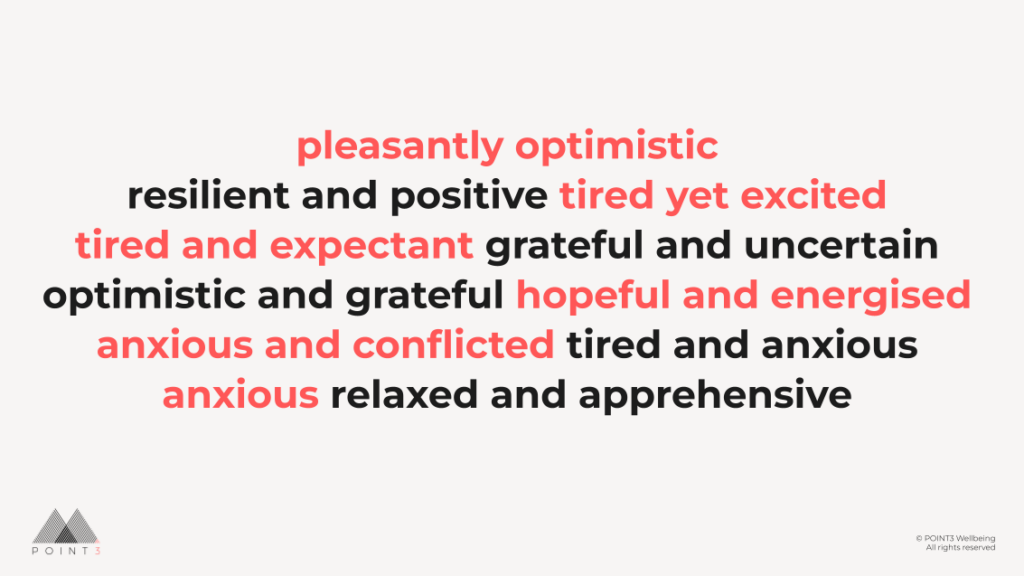 We then asked the question of our MHFAiders – as to whether their MHFA role was part of their main job, completely extracurricular or separate from their main job – but a percentage of their overall time is allocated to the MHFAider role… and it was interesting to see the following response: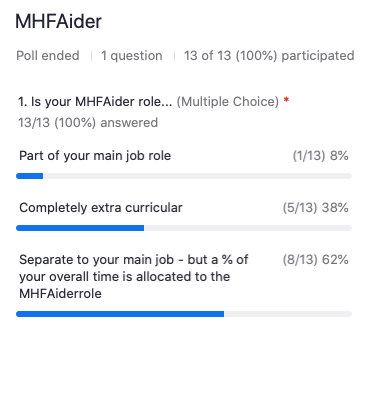 We encourage the organisations we train with to be clear about this before training their people. Setting expectations from the outset helps people manage their responsibilities and boundaries, which is particularly important in supporting others in mental health.

The themes that came out from the cross-sharing discussion were as follows:
The question of confidentiality and when it can be broken

The importance of debriefing after a mental health conversation

The ideal mix and number of MHFAiders for an organisation

How to embed MHAFAiders into an organisation
The question of confidentiality and when it can be broken
One challenge that was discussed was knowing the time when it's right to break confidentiality or not. It was discussed how it could feel like a burden for the MHFAider to bear the knowledge of someone who is struggling in the office, particularly with the different responsibilities that we all have – manager, colleague, and MHFAider. At what point do you escalate or share to provide context to a situation that may have happened?
Nicky reminded the group of the MHFA England guidance around this. That confidentiality can be broken when the person presents either a danger to themselves or someone else. Otherwise confidentiality must be respected if it's been asked for.
Nicky went on to share the importance of debriefing with another MHFAider (ideally) after a mental health conversation but anonymising the context.
The importance of debriefing after a mental health conversation
We discussed the need to debrief after each mental health conversation from a safe-guarding point of view and in terms of managing your own mental and emotional well-being. When we truly listen with empathy to someone else's challenges, this can take its toll on our own mental and emotional well-being.
We don't want our MHFAider community to feel alone when it comes to their role. This is why we do feel it's important for each organisation to have more than one MHFAider so that they can cross-share and provide emotional support for each other.
Each conversation is going to be unique, and everyone can learn from others experiences, so this is another benefit of debriefing.
If you have concerns around the legalities of a certain situation, then we would always recommend that you speak to your organisation's HR or People person to double check again anonymising a situation in the case of non-life threatening circumstances.
The ideal mix and number of MHFAiders for an organisation
This question was asked to see if there's a standard recommendation to follow for an organisation. What we recommend when we are asked this question is that it depends on the organisation, its size and where it is on the journey of providing mental health support for its people.
That said, we do share the mission of MHFA England, which is to have 1 in 10 adults (10%) trained in Mental Health First Aid, and of course, the workplace will play an important role in meeting this goal.
At a minimum, we would recommend 3 for any organisation, as that creates a community of MHFAiders who can support each other – emotionally as well as practically.
We also recommend that there's a good mix of people from across the organisational hierarchy and demographics. This means there's more chance of more people feeling that there's someone they would feel comfortable opening up to within an organisation.
How to embed MHAFAiders into an organisation
We then went on to discuss ways to embed MHFA into the organisation. As part of this discussion, the need to communicate the role of an MHFAider – what it is and what it isn't, its boundaries and limits- was highlighted.
Some organisations represented shared ways that they communicate their MHFAiders via their intranet, webinars, social gatherings and videos. We discussed the need to communicate in a way that feels culturally relevant but also in a way that promotes and makes the MHFAiders feel accessible and friendly.
We finished the session by discussing ways that those organisations represented are marking Mental Health Awareness Week (MHAW) (15-19 May) this year.
Some MHAW initiatives shared by the group included:
F2F drop-ins

Sharing resources for people to watch and read in their own time

Group walks

Organised talks to remind the organisation of the available MHFAider support and other initiatives.
As part of MHAW, POINT3 are hosting a free 20-minute "Mind Massage" – (combining mind relaxation and mindfulness techniques) – on Friday, 19 May at midday. We have space for up to 100 people to join us – so please share the invitation around – link to register here.
We also share here our latest Walk The Talk episode with Oliver Turnbull from ADL, one of our Mental Health First Aid communities. He talks about the mental health support that the team at Arthur D. Little have implemented for their global workforce. A great listen for all MHFAiders – thank you, Oliver!
Please let us know if you need any support curating your MHAW or other mental health workplace activity. We'd love to help.
To find out more about our Mental Health First Aid courses, click here.