Science shows that reading has so many valuable health benefits, including helping with depression, reducing stress, and the chances of developing Alzheimer's in later life.
When we read, not only are we improving cognitive functions, such as memory and emotional intelligence, including empathy; research also shows that it makes us feel better and more positive too!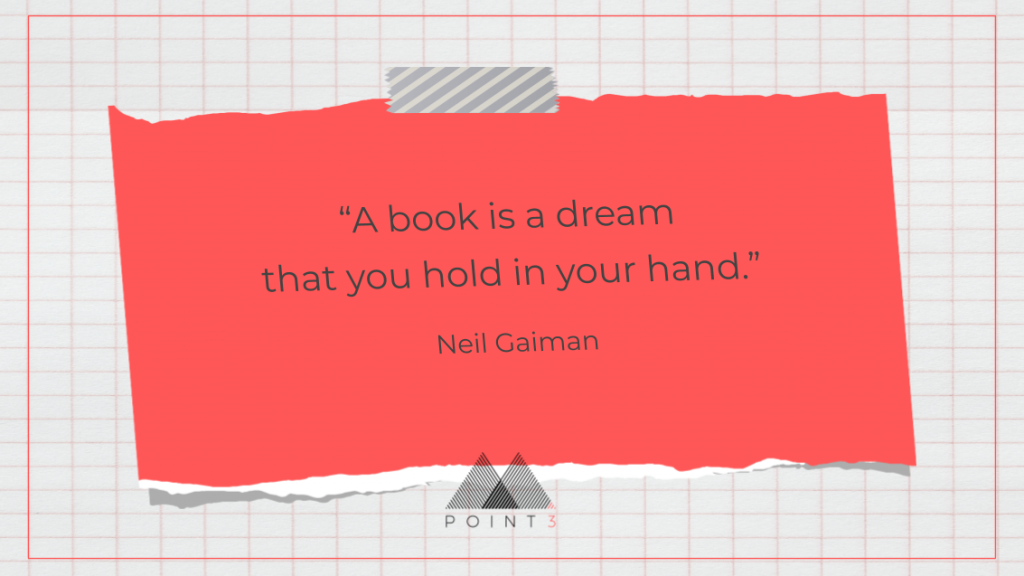 And the following recommends by the POINT3 founders all have an underlying wellbeing theme so perhaps you can expect double benefits from reading these?! We hope you enjoy and would love to hear your feedback…
Nicky recommends…
#1 Why We Sleep by Matthew Walker.
Synopsis:
The New Science of Sleep and Dreams is a science book about sleep by the neuroscientist and sleep researcher, Matthew Walker. Walker is a professor of neuroscience and psychology and the director of the Center for Human Sleep Science at the University of California, Berkeley.
Why I like it:
I've long been fascinated by sleep, dreams and what the point of it all is – after all, we're set to spend about a third of our life doing it! This book is grounded in science but distils the science in a snackable way to bring awareness and some impressive sleepy "pub facts". You won't look at your sleep time in the same way ever again – and if ever you need the motivation to review your sleeping habits – this book will provide it!
#2 The Alchemist by Paulo Coelho.
Synopsis:
The Alchemist by Paulo Coelho continues to change the lives of its readers forever. With more than two million copies sold around the world, The Alchemist has established itself as a modern classic, universally admired.
Paulo Coelho's masterpiece tells the magical story of Santiago, an Andalusian shepherd boy who yearns to travel in search of a worldly treasure as extravagant as any ever found.
The story of the treasures Santiago finds along the way teaches us, as only a few stories can, about the essential wisdom of listening to our hearts, learning to read the omens strewn along life's path, and, above all, following our dreams.
Why I like it:
A quick and easy read with an unbeatable moral heart that can't help but leave you feeling uplifted and filled with inspiration. I've not met anyone who has read this book who hasn't taken something very valuable away from it.
#3 Feel the Fear and Do It Anyway by Susan Jeffers.
Synopsis:
Feel the Fear and Do It Anyway is filled with concrete techniques to turn passivity into assertiveness. Dr. Susan Jeffers, teaches you how to stop negative thinking patterns and re-educate your mind to think more positively.
Why I like it:
OK, I had to include this as it was a "turning point" book for me. I picked it up as the title caught my eye at the WH Smiths in Euston when I was en route to set up an event I was completely overwhelmed by. I bought it for the ironic laugh BUT I almost read it cover to cover on my journey up North. It was first published in the 80s in the States – and if you're able to traverse those things – this book holds within it some life lesson treasures that will, as the title suggests, help you face what you fear but dive right on in anyway…
Siôn recommends…
#1 Ikigai: The Japanese Secret to a Long and Happy Life by Héctor García.
Synopsis:
Ikigai translates as 'a reason to live' or 'a reason to jump out of bed in the morning'. It's the place where your needs, desires, ambitions, and satisfaction meet: a point of perfect balance, and perfect fulfilment.
Why I like it:
Visually this book is so eye catching. Just sitting on the coffee table it simply begs you to pick-it up and at least hold the beautiful cover in your hands. When you open it up you are quickly brought on a journey which has both personal stories and also, what I really love, some powerful stats which keep you going from page to page. You will quickly understand what it is that make blue zones (those areas where there is a higher percentage of centenarians than anywhere else in the world. Guess what, it's not early retirement) the way they are, through to a wider view of the world. It's also an easy read, short punchy chapters that you can flick through if you have 10 minutes here or there.
#2 10% Happier, Meditation For Fidgety Sceptics by Dan Harris.
Synopsis:
ABC News anchor Dan Harris used to think that meditation was for people who collect crystals, play the pan pipes, and use the word namaste without irony. After he had a panic attack on live television, he went on a strange journey that ultimately led him to become one of meditation's most vocal public proponents.
Why I like it:
Dan Harris experienced 'that thing' that many of us would only experience in our worst nightmares. A panic attack, live, on national TV whilst broadcasting the news. I wouldn't pick this up if it wasn't an easy read, and Dan is both irreverent and also humorous, making this a real page turner. He looks to uncover as much as he can about the 'power of meditation' because he comes at it, much like I did, with a sceptical mindset. The book is really well researched, practical and crammed with expert advice. A must read.
#3 Age of Earthquakes: A guide to the extreme present by Shumon Basar and Douglas Coupland.
Synopsis:
A highly provocative, mind-bending, beautifully designed, and visionary look at the landscape of our rapidly evolving digital era.
Why I like it:
I'm really into the impact that the digital age is having on our lives. This book delves into what it means to be ultimately present. It certainly doesn't shy away from being provocative, but no one wants to read a vanilla book. This can be read in an hour, but will leave you thinking on it for many hours beyond that. Do check it out.
Sarah recommends…
#1 Own The Day, Own Your Life by Aubrey Marcus.
Synopsis:
Aubrey Marcus is the founder of the human performance company Onnit. This book shows you how to supercharge your energy, level up your immune system, decrease stress, and experience mind-altering sex. Readers are taken through 24 hours of smart, conscious choices to optimise practices for waking, working, learning, eating, training, playing and sex.
Why I like it:
The book is packed full of useful little tips to apply to your day-to-day life… of course you do have to take some of it with a pinch of salt, i.e. who is really going to endure a daily cold shower and IMO you can't be that disciplined every day??! But I have incorporated a number of his suggestions – one of which is kick- starting the day with hot water, lemon, pink Himalayan salt and ginger instead of my normal coffee! I still have a coffee but allow my body to wake up a bit first before that caffeine onslaught! He also recommends daily movement and mindfulness, so I approve of that too 😉 The real message for me is to own the day, rather than letting the day own you – and that approach and attitude can be very transformational in itself.
#2 The Four Pillar Plan by Dr Rangan Chatterjee.
Synopsis:
Prepare to change your lifestyle for the better with Dr Rangan Chatterjee's four-step plan to help you have a happy body and mind and achieve optimal health.
A healthy life doesn't have to be complicated and with Dr Chatterjee's small but life-changing interventions – which will change your approach to food, rest, sleep and exercise – you will take charge of your health and transform your life for the better.
Why I like it:
This is a great book to dip in and out of. Dr Chatterjee simplifies the way to a longer, happier life by unpacking some of the key building blocks to a healthy lifestyle. A great complement to his podcast which I've also recommended.
#3 Emotional Intelligence Series by Harvard Business Review.
Synopsis:
Each book in the series (which includes Happiness, Resilience, Empathy and Mindfulness) offers proven research showing how our emotions impact our work lives, practical advice for managing difficult people and situations, and inspiring essays on what it means to tend to our emotional wellbeing at work.
Why I like them:
These books are super easy to dip into, and they each provide thought-provoking perspectives and research around the importance of emotional intelligence in life – be it at work, or beyond.