Mini Retreats
HIIT+CHILL+CHAT
Our next wellbeing HIIT+CHILL+CHAT mini-retreat will be held on Saturday 2 March at The Brewery Stores in Richmond-upon-Thames.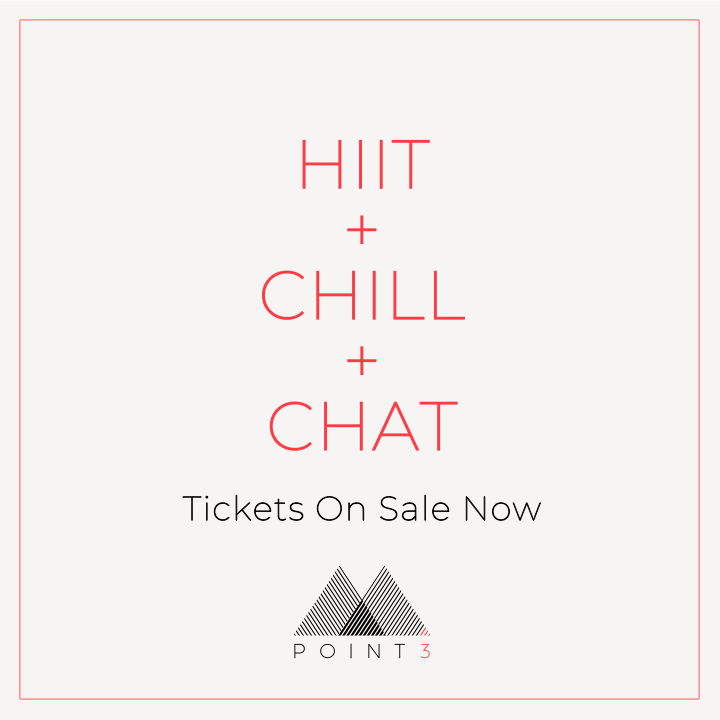 Our events are held in the recently renovated Brewery Stores in Richmond, and its stunning riverside surrounds. The POINT3 Wellbeing team invites you to join our 2 hour fully-immersive mind-body experiences that aim to leave you feeling energised, enlightened and inspired.
We have created a 3-part journey that will harness the collective power of mind and body fitness – through movement and mindfulness – resulting in the perfect balance of aching muscles and a peaceful mind.
Each event finishes with a guest speaker talking about a different wellbeing topic. September's event theme was the power of the breath and in October our theme was mental health. In March we welcome Megan Swanson, Just Breath Counselling who will be discussing the subject of motivation and how to find motivation to be our best selves.
On the day:
09.15 – Check-in and welcome.
09.30 – Mind Visualisation – setting you up for success ahead of the HIIT (High Intensity Interval Training) workout.
09.40 – "HIIT" Experience – this won't be easy but it will be worth it! This is open to all levels of fitness. We recognise this is your workout so you can push yourself as hard as you like within your own range of fitness.
10.30 – Guided Mindfulness Experience "CHILL" – the ultimate way to un-knot your mind and relax from the week that's past.
11.00 – Guest speaker discussing a different wellbeing theme.
11.20 – Nourishing goodies and mingling.
Here's a taste of what you can expect at one of our events:
HOW TO GET THERE:
Address: The Brewery Stores, 18 Petersham Road, Richmond, TW10 6UW
Nearest tube: Richmond on the District Line (10 mins walk)
Nearest station: Richmond on the Main Line (10 mins walk)
OTHER EVENTS:
We also host weekly (FREE to attend) events in the same event space. These 45 minute long events take place every Wednesday at 6.15pm and are open to anyone to attend. You can find out more information here.